Read on to learn top strategies for marketing your class, from creating pre-launch buzz to sustaining engagement for the long term.
In this article:
Marketing Fundamentals
In a nutshell, marketing is the process of making people aware of what you have to offer and enticing them to actively take it. Effective class marketing considers your audience (your students and followers) and the most creative ways to call them to action — or in this case, taking your class.
It's important to remember that marketing isn't a single action that's done once a class publishes. It's a continued conversation with your community and audience and needs sustained attention from you throughout the lifespan of a class.
Class Marketing Best Practices
Here are some general guidelines to help you market your class.
Plan Ahead
Don't wait until your class has launched to start thinking about marketing! Think about your overall strategy for marketing your class. Write out your discussion announcements and social media posts in advance and set a schedule for when they will go live. During class production, set aside time to film some b-roll for short clips you can share on social media — such as Instagram Reels, TikTok, and YouTube.
Set Goals
Setting benchmarks for your marketing campaign can help you build and sustain momentum all the way up to class launch and beyond. Here are a few examples if you're just getting started:
Get 50 students
Make at least ten membership referrals
Get five or more positive reviews
Know Your Marketing Channels
Think about the ways you communicate with your audience off of Skillshare. These may include:
Email
Email newsletter
Your website or blog
Social media (Facebook, Twitter, Instagram, Pinterest, TikTok, etc.)
YouTube
LinkedIn
If you already have an established online presence, you're in great shape to start marketing your class to your followers outside of Skillshare. If you don't have a big online following, don't fret! Many of our most successful teachers, like Jake Bartlett, had no online presence when they started teaching on Skillshare. In fact, it was teaching on Skillshare that sparked the large followings those teachers have today. It's OK to start small: even sending an email to your personal contacts about your new class is a great first step.
Don't forget to leverage Skillshare's built-in discussion tools to tell your students and followers about new classes! To learn more about how to use class discussions and discussion announcements, refer to the article
Facilitate Discussions
.
Post Often
Sharing about your class or Skillshare teaching regularly helps drive more visibility in your social feeds. For social media, aim to post one to five times per week for your regular feed, and three to ten times per day for stories. Don't be shy about resharing a class, either. Many people miss the first post, especially with current social media algorithms.
Work Those Hashtags
Use topic-relevant hashtags (such as your creative medium as well as the audiences it appeals to) to help people discover your content. Use hashtags for every post in your feed and make sure to put it as the first comment and not the post itself. For example, for a post about a graphic design class you might use: #graphicdesigner #graphicdesigners #designers #artists #digitalart #digitalartists #skillshare #onlineclass #art #onlinelearning #virtualclasses.
Create Compelling Marketing Content
Marketing is all about standing out and cutting through the noise so it's important to get creative with how you spread the word about your class.
Capture "Behind the Scenes" Footage
While you're filming your class, don't miss the opportunity to capture "behind the scenes" footage. You can use your phone to capture candid shots or video.
Give Insiders a Sneak Peek
Everyone loves insider info and exclusive access. Get your followers excited about your class before you publish by sharing sneak peeks and class teasers, giving them a window into your creative process. You can also share some useful tips or a short lesson along the way.
Consider Short-form Content for Social
Create shorter-form content that can be used to promote your creative style and teacher brand on social media and mix up your class offerings. For example, "watch me work" videos of about 30 to 60 seconds in length offer a behind-the-scenes look on your creative process and shortcuts. These are great for your introduction video, b-roll throughout the class, as bonus content, and for cross-promoting on social media.
Make It Interactive
Facebook and Instagram's native tools, such as questions, quizzes, polls, and like meters, help drive engagement. All of these encourage your followers to interact with your posts, which results in a higher ranking in the channel's algorithm and more visibility for your content.
Channel Your Enthusiasm in Written Copy
As the saying goes, a picture is worth a thousand words, but don't let your images speak for themselves. Make sure your photos and videos are accompanied by written copy that conveys your enthusiasm for your class and what your future students will get out of it.
Here's some example language that you can adapt for your own pre-launch teaser post on social media:
As some of you may know, I've been [your art form/medium] for [amount of time you've been practicing it in months or years] and I want to share some of my secrets with you. I'm thrilled to be creating [title of your class] on @Skillshare, a class that teaches you how to [what you're teaching them]… and it comes out in 1 week! I can't wait to share it with all of you! Drop a [your favorite emoji] if you're ready to learn [what they'll be doing in the class].
Remember that students who sign up through your class or channel referral links get one month free of a Skillshare membership, which can be a helpful incentive to offer your future students. Refer to the article
Earn Referral Bonuses
to learn more.
More Creative Marketing Ideas
Looking for more ways to market your class and grow your following? Our most successful teachers use many different tactics to get the word out about their classes. Here are some ideas.
Permanently Feature Your Classes on Your Website or Blog
Adding links to your classes on your website or blog is one of the easiest ways to continually attract new students, forever. Top Teacher Rosalie Haizlett has a dedicated page on her website that features her Skillshare classes and she uses her class referral links to direct students back to Skillshare to sign up.
Post Your Intro Video to YouTube
Try posting your intro video to YouTube so more potential students can learn about your class. Or better yet, create bonus content like Denise Soden as a complement to your classes on Skillshare. Optimize the video for search and discovery by including key search words in the video title. And be sure to link back to your Skillshare channel with your referral link in the video description.
Add Your Referral Link to Your Email Signature
Follow Top Teacher Jen Dixon and put your channel referral link in your email signature. This way, anyone you communicate with via email will have a chance to check out your Skillshare classes.
Give a Shout Out in Your Email Newsletter
Top Teacher Cat Coquillette frequently features her new classes in her monthly newsletter. Direct messaging paired with a simple call to action (e.g., "Join me on Skillshare and get one month free — access my class and thousands more!") can help draw a lot of new students.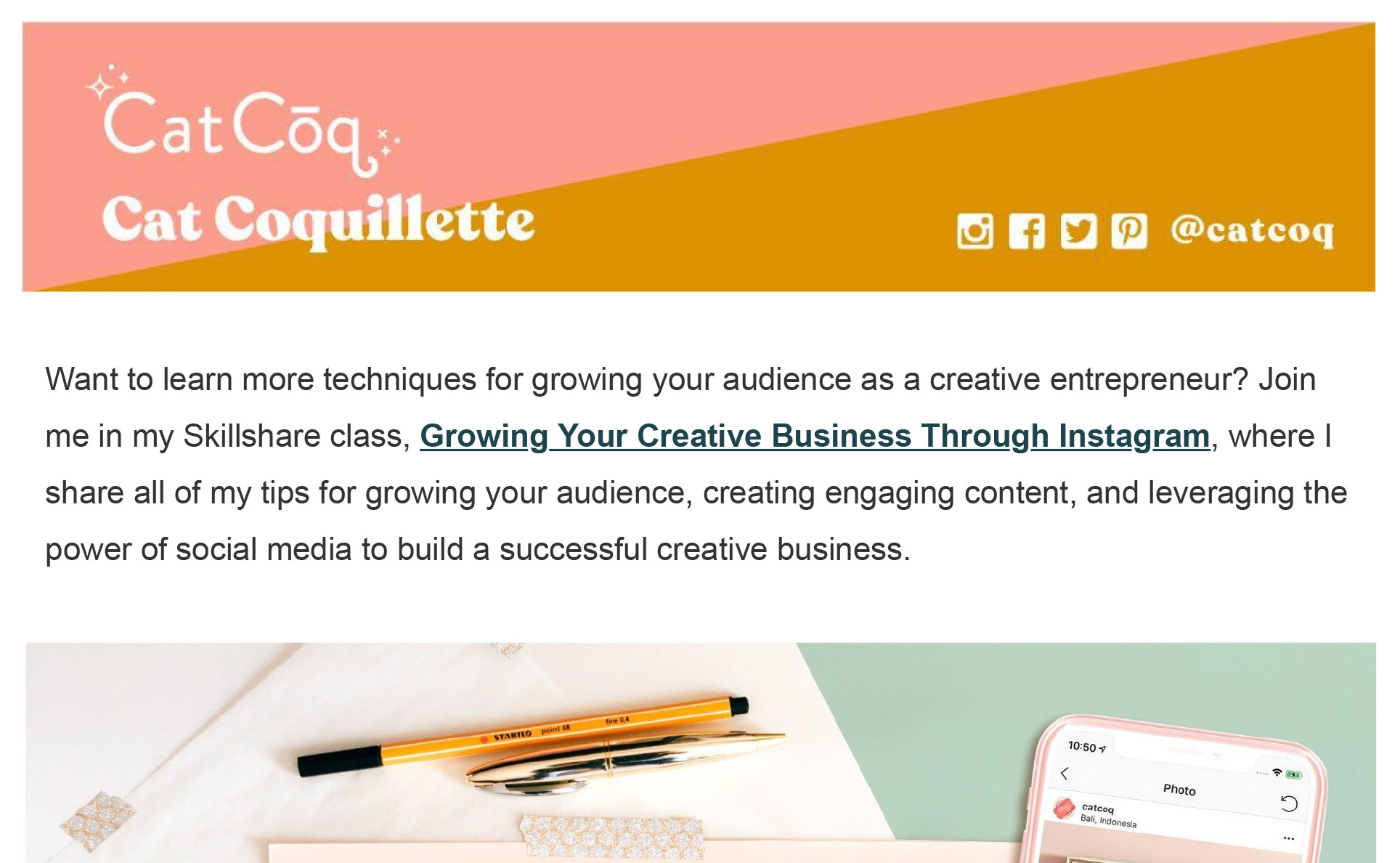 Leverage Your Network on LinkedIn
LinkedIn is a great place to share professional wins — including your Skillshare classes! Take Top Teacher Cé Marina's example and post about your latest classes and other Skillshare activities on your LinkedIn profile. It's also a great idea to add your current projects and teaching experience to LinkedIn too.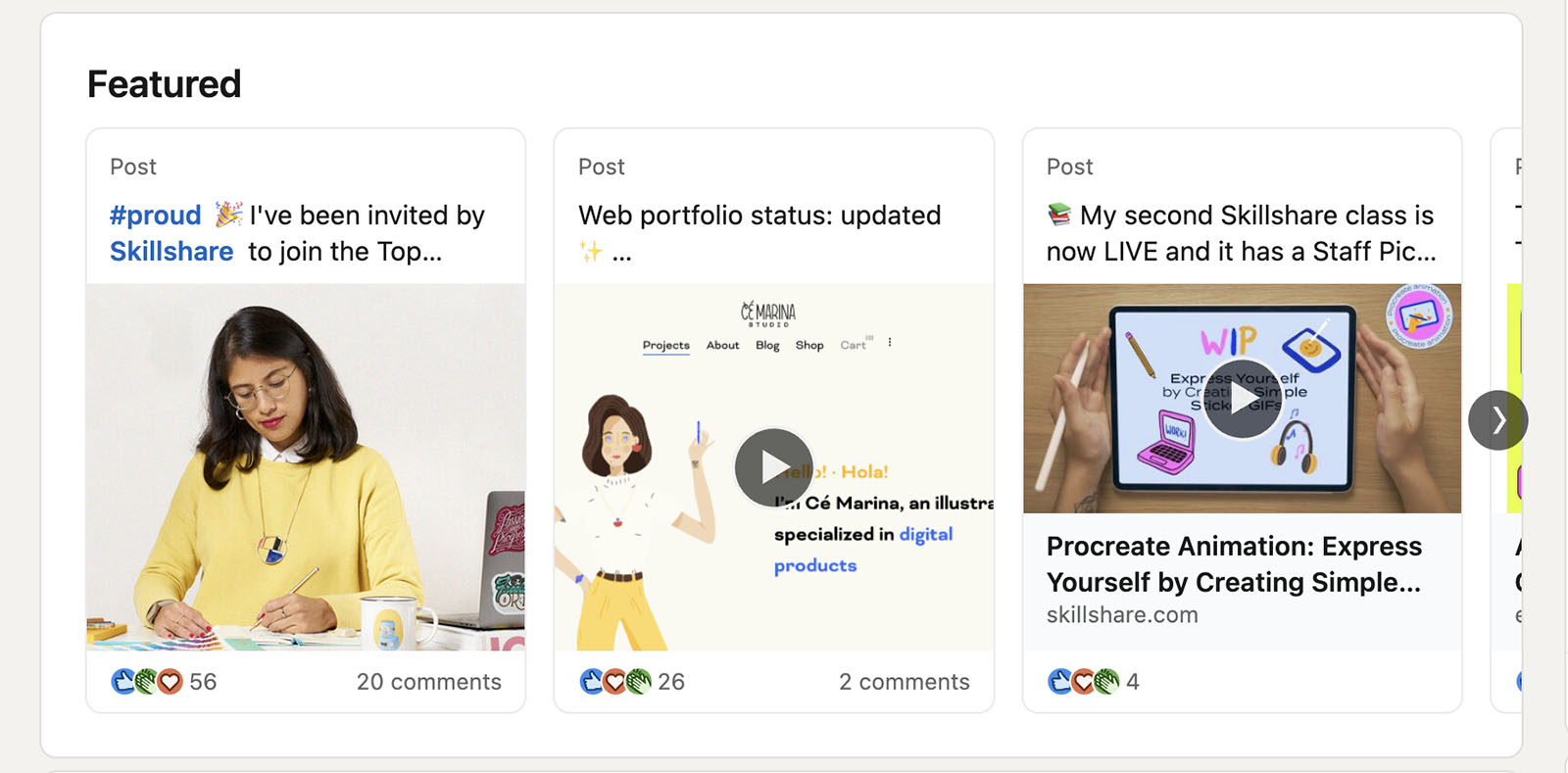 Share a Milestone on Social Media
Top Teacher Tom Froese used Instagram to share a milestone in one of his classes — 1000 students! He also used the opportunity to promote the class after launch by sharing a selection of student projects from the class. This is an especially smart way to market a not-so-new class.
Other ideas to try:
Take time to generate some pre-launch buzz around your class by posting teaser posts and behind-the-scenes content. If you have more than 10,000 followers, use the 'swipe up' feature on Instagram so you can use your class or channel referral link to direct your followers to Skillshare.
Reach out to blogs, influencers, and organizations who might be interested in featuring your class. Perhaps your friends don't share your passion — so find people who do! Do some research to identify 5-10 blogs, organizations, or individuals with a strong social presence who you think might be interested in sharing your class with their own community.
Create a free access link to encourage your friends, family, and followers outside of the Skillshare community to take your class. An initial boost of student activity can help it trend in Skillshare's catalog. To learn more about how to create a free access link for your class, refer to the article Can I make my class available for free?
Go Further